http://www.charmedbystarr.com/
The online store for all pagan, witch ritual items needed.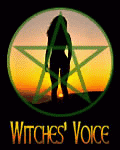 The Witches Voice:
The Best National and
International Resource Site on
the Internet!
http://www.witchvox.com/
My Elder and friend, Laurie
Cabot HPs, the Official
Witch of Salem!
Readings, Classes and a Terrific
Store!
www.lauriecabot.com

Pagan Pride Day
&  Gala Fundraising Event
Starhawk
author of "The Spiral Dance"
Raymond Buckland
author of "The Complete Book of Witchcraft"
http://www.raymondbuckland.com/
Lexa Rosean (Lady Venus) friend and
author of "Supermarket Witch Series"
New York City Pagan Resource Guide
www.thenycpagancouncil.webs.com
http://www.wiccanfamilytemple.com/
Wise Woman Center
Church of all Worlds
author of "Green Egg Magazine" 40 years old
Phyllis Curott author of "The Book of Shadows" www.randomhouse.com/features/witchcrafting
The real Wiccan ethic is simple: Witches live in a sacred manner, treating all of life and the world itself with reverence and respect, because they live in a sacred world.
This is an ethical approach to Witchcraft, to magic, spellcasting and daily life that is truly a reflection of our deepest spiritual principles, and our practices. And it is an understandng that can remedy the wrongs threatening the survival of the Earth. So the next time someone asks you why Witches don't cast evil spells, or what the basis for your ethics are, you can reply: I live in a sacred manner because I live in a sacred world. I treat that world, and all the creatures in it, with reverence and respect because everything is an embodiment of the Divine.
http://www.twpt.com/ The Wiccan/Pagan Times

http://teenwitch.com/